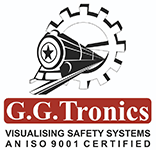 Products › Approach Train Warning Device "ATOBS-G39"
Centralised Level Cross Warning Device using Axle Counter Technology
ATOBS provides audio-visual warning to road users based axle counting system, suited for both manned and unmanned LC gates at both single and double track.
Designed with Centralised Electronics at LC.
No electronics at Remote location.
Current sensing wheel detectors supporting distance up to distance of 3 Km's.
Complies with RDSO/SPN/179/2003 Ver 1.0 with amendment 1 and CENELEC standards.
Steady yellow under normal condition. Changes to Red and energizes hooter / gate barrier on train detection at remote. System restores to normal on train clearing the LC.
Signal post on either side of LC. LED visibility up to 400M and audio range of 30M
Works on 90R, 52Kg and 60Kg rails
Train detection up to 250Kmph. Single wheel detector fixed at inner rail
Power Input 24 VDC assisted with solar panel and 300 AH battery provided at LC
Long working duration of 7 sunless days
24 watts low system power consumption. Utilities power for audio-visual and barrier extra
Protected against lightning surges
Stable operation at –10 to 70oC and RE area
Power supply required at LC location only and at remote location only axle detectors required
Audio / Visual warnings will start as soon as the first axle is counted by the remote detectors
LED signals working on 24 VDC provided for visual indications to the road users
Audio / Visual warnings is stopped only after the complete train leaves the LC gate
Steady Yellow indication under LC gate open condition changes to steady Red when gate closed in Manned gate
Detection of In-count at remote track device / action by gate man to close the gate at Manned Gate triggers the hooter and warning lights to Flashing Red
The system restores to normal on train clearing the Level Crossing Gate. The Road warning signals work during closing and opening of gate even if system fails in manned gate
Centralised axle counting system with 2oo2 architecture
Wide input voltage operation of 18 to 72 VDC and low system power consumption of 24 watts
No Electronic equipments or power supply required at Remote thereby pilfer free at remote ends
Two vital relay drive outputs for system health and train occupation detection
Complete SMD components technology for better reliability and compact design
Housed in standard 19" aluminum cabinet module
Wheel detectors can be as far as 5Km's and connected via signal cable in non RE area and quad cable in RE area
Manned LC Gate
ATOBS is integrated with Electric / manually operated gate operations of closing /opening at manned LC gate
ATOBS supersede giving warring at LC gate if train approaches LC gate, even if gate is not closed by gate man
Unmanned LC Gate
ATOBS gives warring at LC gate if train approaches LC gate before 2 - 3 KM's
Power to ATOBS system is provided either by Solar Panel or drawing power