Single Section Digital Axle Counter "SSDAC-G36"
Versatile axle counting system configurable as 2DP, 3DP, 3DP-2S(IBS), AS
Overview
G36 is a fail-safe 2/2 microcontroller based axle counting system for section proving in Railways. G36 can be configured to various versions using fool-proof method thus prevents wrong configuration at site, ensures highest degree of safety. Operating mode like preparatory, clear and occupied, configuration status, wheel counts and error messages are constantly displayed on the system LCD status panel and interactive Reset box.
Magnetic sensors detects the axle counts and direction of train movements that is transmitted to the other end of the system to verify and clear the block. Wheel sensed at one DP will cleared at any DP. The section status can be fed directly to further controlling systems through vital relay contacts. Each section has two or three detection points based on configurations. System unit is housed near the track with its DP placed at a variable distance of 15 Mts.
Reliable communication between systems with a cable loss of 30dB using V.23 FSK modem at 1200bps, assured by CRC check with redundant messages. Fixed pair communication along with interlocked addressing between units ensures fail-safety. Built-in event logger logs normal and error data that can be downloaded on to a PC using RS232 serial port. Additional FSK modem available in event logger card connected to interactive Rest Box at station (requires extra pair in quad cable). User-friendly GUI aids to print reports.
G36 works on 24 VDC power supply, integrated with lightening surge protectors.
Stable operation at adverse environmental conditions from –10°C to 70°C. Reliable train detection by sensors exposed to water clogging due to heavy rains.
Features
System
Microprocessor based fail-safe embedded system
Detection of axles and direction of train movement
Fixed pair communication, CRC check & unique addressing of units ensures fail-safety
User friendly GUI aids to download events via RS232 port
Units are housed in location boxes near the tracks
Axle Detectors
Web mounted on track, works with 90-R, 52Kg, 60Kg rails
Phase detection principle employed
Signals fed at 21Khz and 25Khz to Tx coils at 60V RMS
Axles above 550mm are detected
Reset Box
Amended as per RDSO Ver 2.0 Specification
Interactive RESET Box with LCD for live status display of DP Status (2DP, 3DP, 3DP-2S, AS)
Section Status (Wait for Reset/Preparatory, Section Occupied / Clear)
Wheel Counts (Local and Remote DP)
Technical Specifications
Complies to RDSO/SPN/177/2005 Ver 2.0 with amendment 1
IV&V of system software meets stringent CENELEC 50128, SIL-4
Mature and rugged with inherent fail-safety, highest reliability, availability, and maintainability as per CENELEC standards
Supports below configurations

2DP - Straight line
3DP - Point Zone/Set of Point
3DP-2S - Two consecutive sections (IBS) on a straight line
AS - Auto signaling

Fool proof method for avoiding wrong configuration at site
FSK 1200bps fault tolerant data transmission on single pair 0.5 quad cable / OFC voice channel
Track occupancy information available at each detection point
Train detection up to 250Km/h
Trolley protection circuit not required
Works with 90-R, 52kg, 60kg and worn-out rails
Local or remote data logging for 15000 events
Provision of VR and PR relays
Wide input voltage operation from 16.8 VDC to 32.0 VDC
Configurations
2DP Configuration
Operation on straight lines - station or block section
Communication using one pair quad cable
Preparatory Reset configurable either with or without piloting
PR and VR contacts at detection points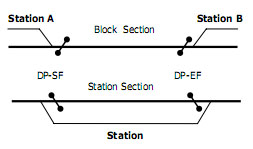 ---
3DP Configuration
Operation on point Zones / Set points
Communication using one pair quad cable
Detection and clearing at any points
Preparatory Reset with LV
VR contacts at all detection points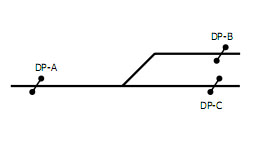 ---
3DP-2S (IBS) Configuration
Operation on two consecutive sections on a straight line (IBS configuration)
Communication using one pair quad cable for each section
Preparatory Reset configurable either with or without piloting
PR and VR contacts at detection points